I have worked freelance as a translator and interpreter since 1998, translating between Danish, English, German and Swedish. I mainly translate technical texts for clients in the steel and machine industry as, in addition to my linguistic educations, I have a long background there. I also translate legal and medical texts and I work as an interpreter, mainly for the courts and the police.

Learning foreign languages does not automatically make one an expert in one's mother tongue too, but I am better than most others. I have published several articles in a scholarly journal and elsewhere about the Danish language and I am one of the very few nerds who have actually read all the punctuation rules there have been in Danish the past half century.

Click in the menu to see my full CV.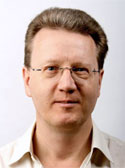 Sten Hedegård Nielsen